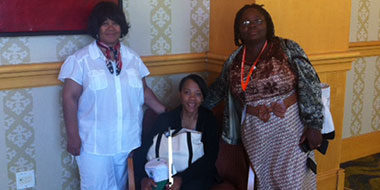 AHCRN Update
Us In Hydrocephalus: A Young Woman Finds Community
By Robin Ennis
Dear Hydrocephalus,
You have been in my life for 32 years, causing much heartache, pain, and tears.
Everyday is a mystery.  I do not know when you will appear.
But, I do know I will try not to live in fear.
You may have robbed me of my eyesight, but I will not let you win the overall fight.
Founded in 1983, the year I was born, the Hydrocephalus Association has been a pillar of awareness in my life. Knowledge equals power, especially when it comes to your health. The more you know, the better equipped you are to take control of your medical situation, rather than letting it take control of you.
Ever since its existence, the Hydrocephalus Association has promoted self advocacy; you know your body better than anyone else. If you sense that something is wrong with your body, chances are, you may be right. This is why it is important to know what type of hydrocephalus you have, the symptoms, and available treatments. Through interactive sessions at their conferences, the Hydrocephalus Association seeks to provide answers to these topics, and much more.
The first conference that I attended, along with my mom, was in 2006. The location was Baltimore, Maryland. That year, I, Robin Ennis, was a proud scholarship recipient of the Gerard Swartz Fudge Memorial Scholarship Fund. Being awarded the scholarship was a momentous moment for me because here I was trying my hardest to overcome the challenges that arose from living with a life-altering condition, and it appeared as though those efforts were paying off; literally speaking. The day I arrived in Baltimore for the conference my heart was racing; I was excited, yet nervous to see what laid ahead of me.
Before attending the conference, I had not met anyone with hydrocephalus, and, after leaving, I formed friendships with others to which I have still today. The people I met were embracing each other, and as they were willing to share their stories, I not only learned something about them but myself as well. I learned that each person with hydrocephalus has their own unique journey, leading them down different paths. But ultimately, somewhere along that journey, we meet up with each other, offering that dose of hope to keep moving forward. We are all different, but united under one cause, hydrocephalus.
As June approaches, I will be getting ready for my sixth hydrocephalus conference, thus causing me to reflect back on my past experiences. If I had to pick my favorite conference, I wouldn't be able to because I have enjoyed all of them thus far, and learned something new each time. However, there are two conferences that stood out the most for me. The first one was the conference I attended in Baltimore, that I discussed above. The second conference was the last one, in 2014. Portland, Oregon, was the destination. The keynote speaker was the late Jerome Kersey, who delivered a heartfelt speech that brought tears to my eyes. Mr. Kersey talked about his time spent visiting children in the hospital, some with hydrocephalus. Mr. Kersey said he didn't know anything about hydrocephalus back in the 80's, thus he didn't know how to act or what to expect. As time went on, he learned more about hydrocephalus by being around the children, and seeing their strength. Hydrocephalus may have taken a lot from us, but as survivors, we have gained something too, strength. Through adversity, we learn how much we can endure, which is a lot. Everyday, we are tested on our endurance, how much we can handle.
One particular instance for me was at the 2014 conference during the session regarding vision and hydrocephalus. For those of you who don't know me, I unexpectedly became blind in 2002, due to my hydrocephalus. Sitting in the session, listening to the speaker, I literally was hearing my story being spoken back to me. Although it was a sobering reality check, I am glad that the session was made available to others. Again, knowledge equals power. It is important that people be aware of all the health implications that hydrocephalus can have on a person, even vision. I sat next to a mother, who was crying, out of fear for her young daughter. Fear that her daughter would lose more of her eyesight. A fear that I am all too familiar with. It was a first session of its kind, and I believe it is one of the most crucial.
If you take away anything from this post, it is to know that whatever you may be facing, the hydrocephalus conferences have something for you. I guarantee you will leave knowing more than you did arriving. If cost is an issue, the Hydrocephalus Association has ways you can save on attendance. I urge you to take control of your health, and do not let it take control of you.
Learn more about conference and register today! www.hydrocephalusconference.org